Stacks of picture books on coffee tables, kitchen surfaces, bedside tables, and even the floor, have always adorned the most comfortable homes. They convey a sense of history, curiosity and affection; adding warmth, texture and a comfortable sense of homely clutter. They are signifiers and souvenirs – reflecting the lives and passions of a homes' inhabitants. Books for interior designers are essential to me and, for this situation that we find ourselves in, I am using them to inspire and educate the whole family.
As our homes have been perhaps less of a castle and more of a fortress in recent times, diving into books for romantic escapism has never felt more inviting. Unable yet to physically peruse the delights of our favourite bookshops, searching for the best interiors books for 2021, I find myself curating piles of books from my shelves and placing them on the coffee table, in loosely related themes, that sit patiently waiting to be explored.
A pile of books can be very suggestive and invite us to try something new and creative; like a game of conceptual consequence or a way of collaging ideas. As someone who has frequently gone through periods of devouring books, my library isn't short on possibility – in fact, it's bursting with it, so I've put together three piles of books to stimulate the mind and hope that you enjoy the possibilities for creativity and discussion they propose. Perhaps you'll even feel inspired to assemble stacks to explore with your family. I've also added in some handy hashtags to extend and enrich your engagement, should you choose.
Stack One - "Gather"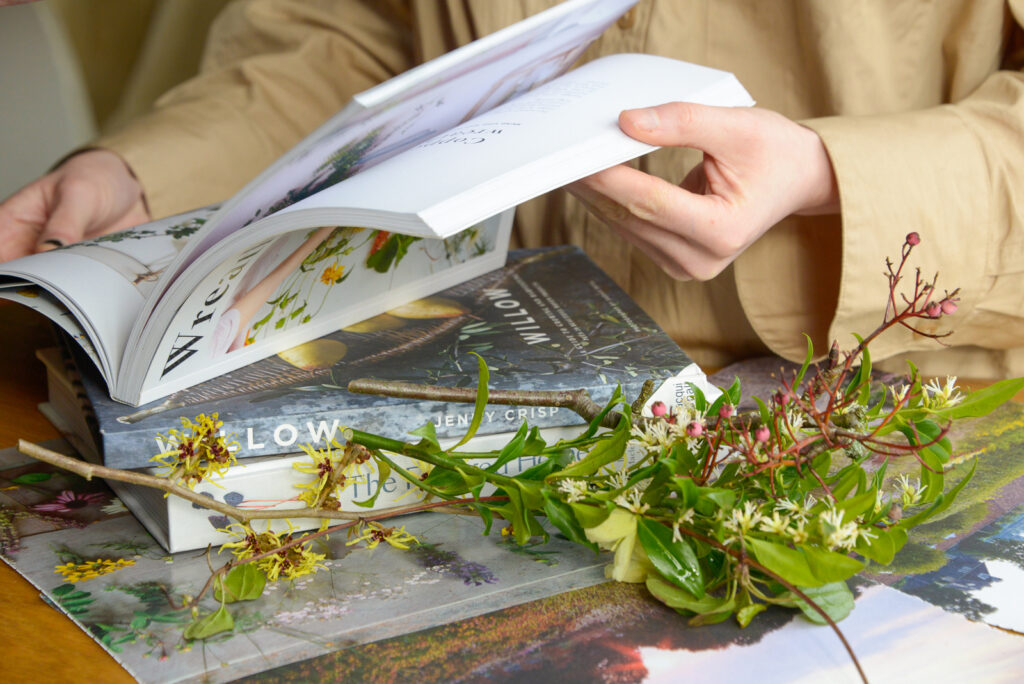 Here are three beautiful books that invite us to go outside and embrace nature's bounty. Family walks can be greatly extended and enjoyed by such books. They encourage us to engage with nature in a more enriching and purposeful way; seeking out larch or pine branches and bringing their wildness indoors to arrange in vases, draw and paint or bend into shapes or creatures. We look out for Fibonacci sequences and think of words to describe forms such as: pungent, fecund, spare…never quite feeling that we've captured their essence or understood them perfectly enough.
I've always loved natural materials, finding in them a gentle honesty. In the world of fibres, I prefer the way they absorb colour. That's why my favourite fabrics in our current luxury fabric collection are Gio and Loretta, their linen and wool contents feel so satisfying to my hand.
Books in our Gather stack
Wreaths - Katie Smyth and Terri Chandler, Quadrille 2018
Wreaths is a lovely book that liberates the wreath from Christmas with 20 ideas for bringing the outside in, all through the year. Using textures from plants such as lavender, mimosa, anemones, and mint, these concoctions have a romantic, wild quality to them.
#wreathsbook
Willow - Jenny Crisp, Quarto 2018
A beautiful book showcasing Crisp's expertly crafted vessels, woven from natural materials. Even if you only manage the garlic holder, you'll feel very proud of yourself.
The Foraged Home - Oliver Maclennan, Thames and Hudson 2019
The Foraged Home presents the beauty of nature to decorate the home. These are sensual spaces filled with visual poetry and they are all the more beautiful for their thriftiness.
#theforagedhome
Stack Two - "Dress"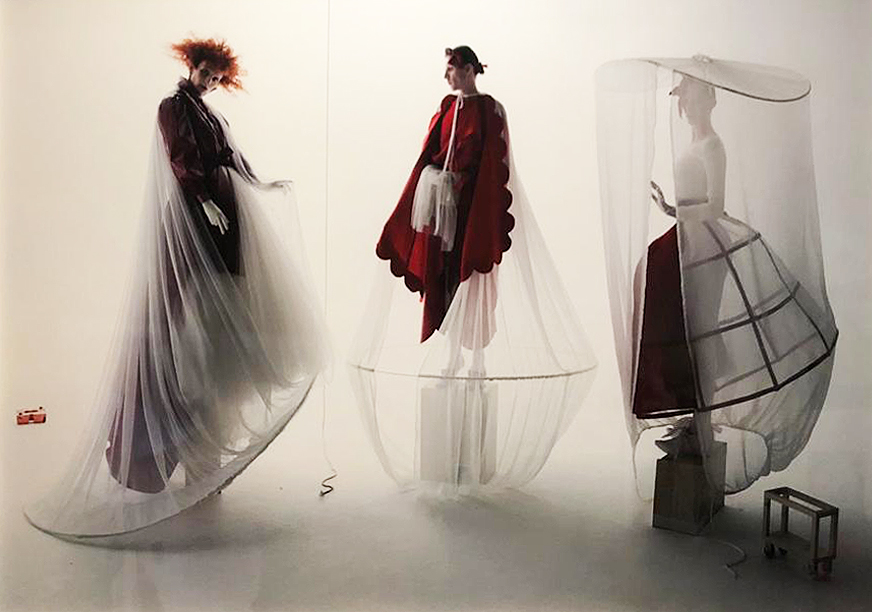 At the V & A Museum, Tim Walker captured the care and craftsmanship requisite in both the conservation and creation of couture clothes in his 2019 exhibition Wonderful Things. #timwalkerphotographyfans @vamuseum
I've loved dress and costume history since attending Lou Taylor's incredibly inspiring seminars during my degree studies in Brighton.
I have a special fondness for crinolines; the cage-like undergarments that turn the body into a bell – visually donging the wearer's entrance, whilst madly resembling a lampshade and rendering narrow doors and small furniture insignificant. Their structural grace has such volume that we are forced to behold the vision before us, imagining how they must billow outwards when plunged demurely into a curtsey (as was common in the court circles where they were worn). They are a crazy ballooning of wombs and bums, simultaneously capable of preserving our chastity and hiding our lovers.
We have a crinoline from the Royal Opera House in our showroom - it swishes most flirtatiously and is great fun for playtime dressing up; literally like stepping into another persona. Looking at the books and hashtags below, you could have fun making your own paper dolls and dressing them in funny, disparate garments (maybe drawn from your own wardrobe). Get dressed for dinner and wear all your biggest costume jewellery at once or plan a dress for future parties.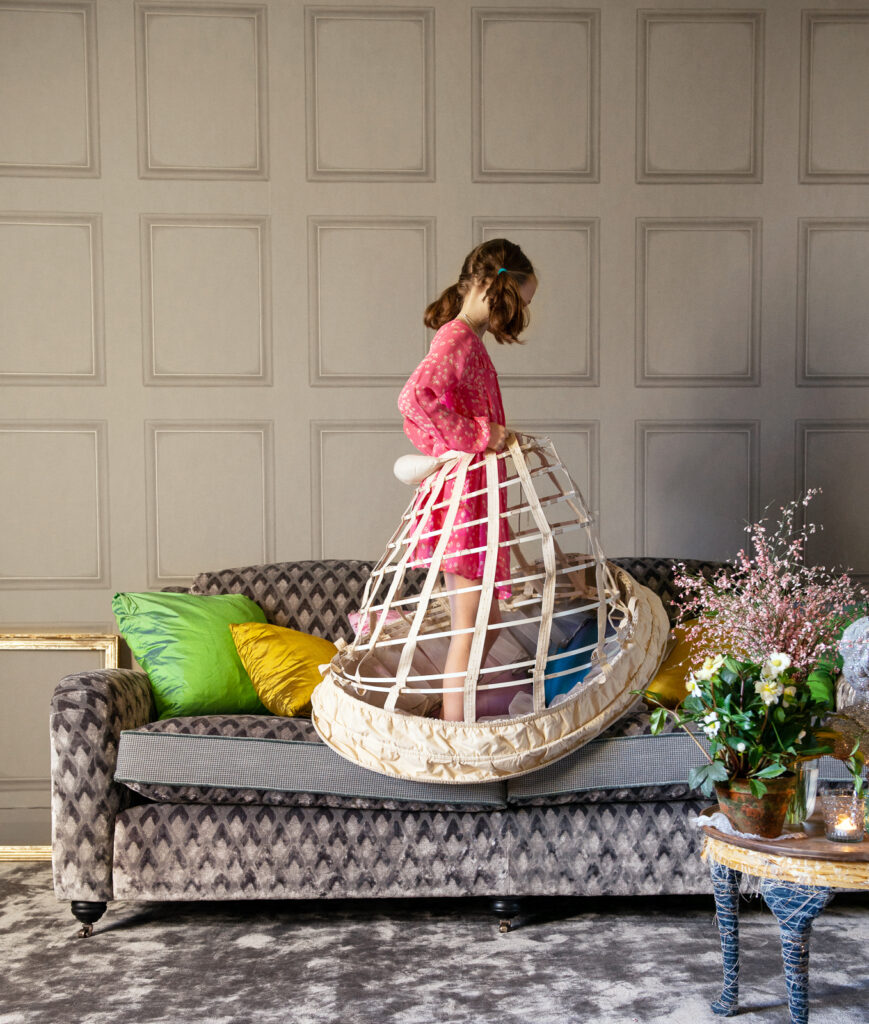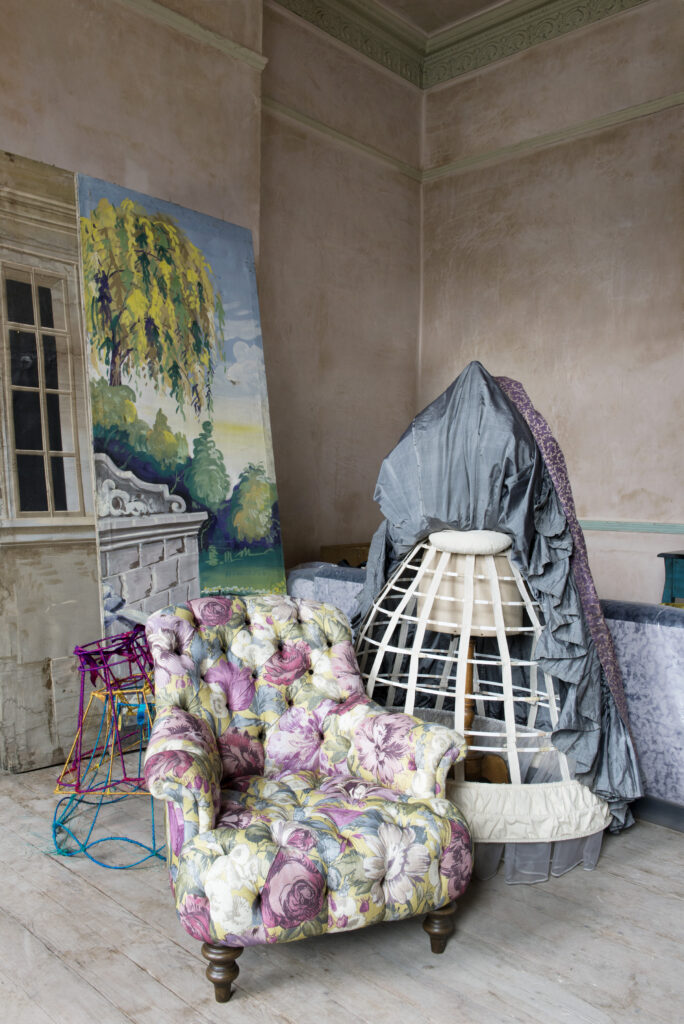 Books in our Dress stack
Theatre de la Mode - Rizzoli 1991
Recounting the story of how the couturiers, jewellers, hairdressers and milliners of Paris sought to revive their industry - devastated by war - by producing exquisite miniature figurines in theatre sets designed by artists such as Cocteau and Berard and sending them on tour to clients in Europe and America. This is a rich and exquisite feast.
#theatredelamode
Patch Work, A Life Amongst Clothes - Claire Wilcox, Bloomsbury Publishing 2020
A gloriously evocative book imbued with the love language of working and living with clothes. This isn't a picture book, but it draws images through tender prose; "Our language is frequently of devastation and disintegration. We talk of shattered silks" - "We airlift a massive crinoline weak with age. We settle its folds, form rolls of tissue to support its boned struts, and pass our hands over the creases like mediums intent on raising the dead." There's a lovely image of Claire Wilcox showing the huge transcript for this thoughtful book and its elegant distillation into its finished form.
Corsets and Crinolines - Norah Waugh, Theatre Art Books 1954
Documenting the changing silhouette of women's dress from the beginning of the Sixteenth Century until 1925, and the artificial means by which we have been blown up to absurd limits in response to socio-economic circumstances. The book includes patterns and construction information. Our Crinoline chair really only exists because I have this book.
#crinoline
Costumes: French Female 1037-1870 - Wolfgang Hageney, Edition Belvedere 1981
Describing in 130 plates, the cultural exchange between peoples of the East and West, beginning at the time of the Crusades. The cross-cultural melting pot of history is manifested through illustrations of new patterns, materials, colours and ornaments.
#paperdoll
Stack Three - "Make"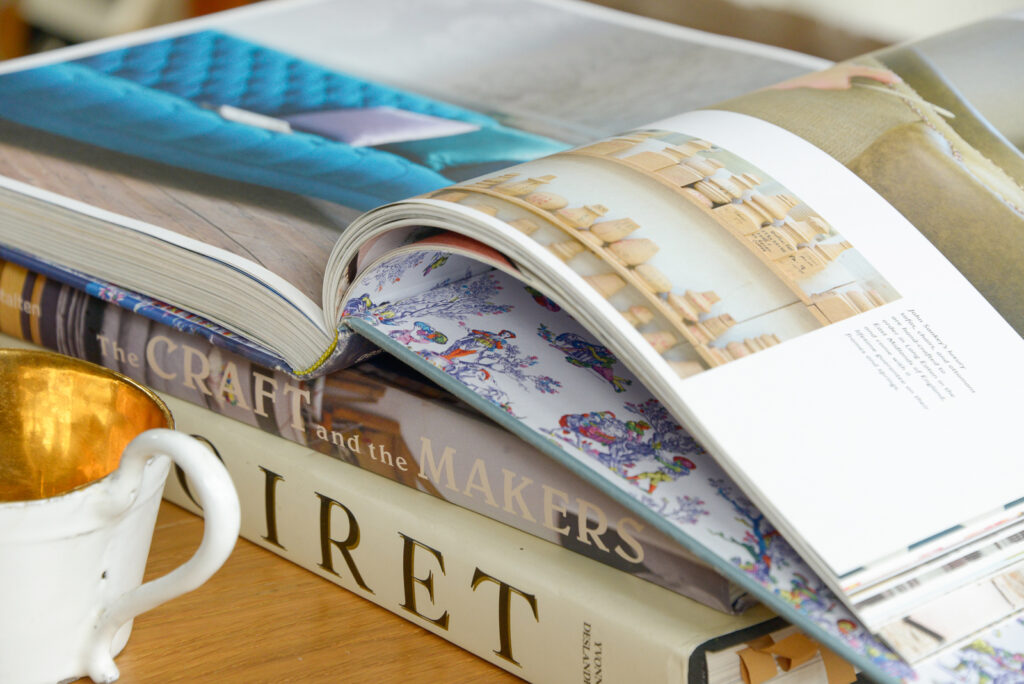 Books that reflect upon making things well and buying things that we'll keep for life, are singing from our hymn sheet. It's good to look around you and appreciate the care involved in making things well, feeling their weight, noting joints and stitch details…even mentally awarding a prize to the most thoughtfully made object in your house. Things like spoons, brushes and shirts often reward a little scrutiny. A natural extension to this is to make a list of things that need mending and plan how to do this with the same care
Books in our Make stack
Insiders and Company. The New Artisans of Interior Design - Gestalten 2018
Showcasing the work of craftspeople, designers and workshops and how they share a passion for craft of the highest quality, proving that the world of artisanship is as exciting today as ever. From Marcin Rusak's beautiful flower and resin cabinetry, to the stunning straw marquetry of Lison de Caunes, the pages are filled with the most luscious products for interiors and John Sankey is lucky enough to be included.
#insidersandcompany @marcinrusak @lisondecaunescreations
The Craft and the Makers. Tradition with Attitude - Gestalten 2014
Describing craftsmanship and its intrinsic authenticity and revealing the strong personalities, dedication and creative processes behind the finished products. Labours of love told through spoons, textiles and cabinetry.
@hervevanderstraeten @nicwebb1 @aboubakarfofana
Poiret - Editions du Regard 1986
A sumptuous depiction of the work of Paul Poiret (1879-1944), whose talents extended beyond fashion, expressing his lyrical, gorgeous exoticism through furniture and interiors too. They still look fresh and exciting 100 years later.
#poiret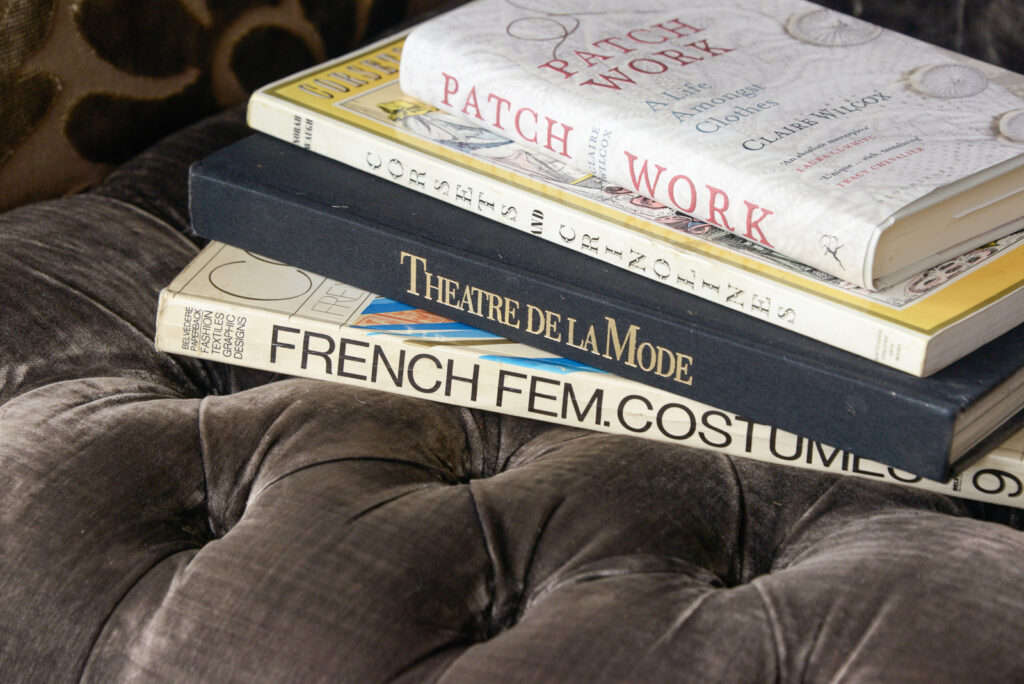 These books that are quietly present, have generously fed our souls, fuelled our imaginations and informed our choices. They help us see clearly and think strategically. Taking the time to feed and inspire ourselves has never been more important. Creativity helps us all to become better problem solvers – which makes us better able to deal with uncertainty. We are drawn to books for a reason. As Anais Nin said, "We don't see things as they are, we see them as we are." I like to think that these books are seducers of thoughts, dreams, ideas and ideals, and that collectively, they tell our stories too.
If you would like to open a Trade Account with John Sankey or discuss a bespoke project with us, please email us: enquiries@johnsankey.co.uk.
Images courtesy of www.jonathanjuniper.com.