Buying Guides
We know it can be overwhelming sometimes choosing the furniture of your dreams. Hopefully with our buying guides, we can make this a little easier for you. Feel free to get in touch for a more personalised experience; enquiries@johnsankey.co.uk.
Getting your furniture selection right for your room.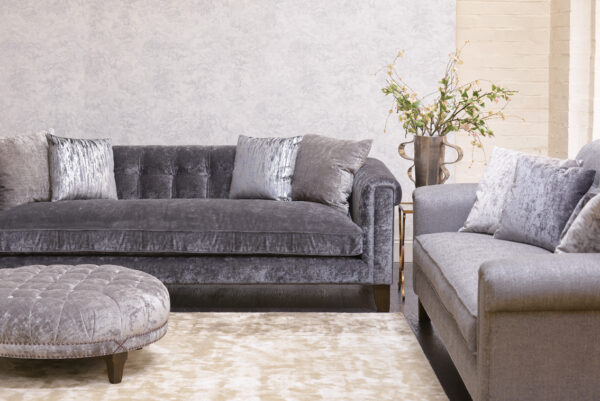 Start with shapes that you love, this may sound obvious but trust your own eye. Consider the room as a whole and think about what the main elements are, be practical and ensure that you provision space for side tables and lamps (you need places to put your drinks and books), if you do this you'll have a good idea of how much space you can allot to your upholstery pieces.
Consider the age and location of your property. Country homes and urban homes need different solutions and we like to think that we cater for both.
It's how the pieces work together that counts, try to avoid three-piece suites, they create heavy blocks in a room, presenting everything on the same level and missing opportunities for something more interesting. Think about the leg heights, it might be good to have some pieces with longer legs as they tend to have a lighter visual impact. Also, consider that we are all different shapes and heights, so think about how you prefer to sit when you're relaxing. If you like to have your legs up, then make sure the sofa seat is deep enough to accommodate this if it isn't you might need a sofa with a chaise end or an ottoman. If you like to lie down on your sofa, make sure it is long enough for you to stretch out. Consider that some family members or friends may want to sit higher or lower, have head support, read by the window etc. so it's really useful to have some upright chairs or small sofas that can be pulled into play when needed. In our range Hawthorne, Rickman, Wainwright, Holkham, Falcon and Boodle tick these boxes and in addition, add a lightness to the overall effect with their relatively low arms and high backs.
Think about the lines that you like; soft and rounded or crisp and angular but keep the arrangements loose and have fun putting together mixtures of new pieces and old. The aim is to create balance and harmony and reflect your family's personality.
Always measure the space where your sofa is going to go carefully. It's so disappointing to go through the process only to find that something doesn't fit. Make sure you measure up your door frames and allow for any tight angles, radiators, bannisters or other architectural impediments. Some of our sofa legs are removeable to help deal with access issues and there's a detailed guide here.
A sofa is one of your most important furniture decisions. Make sure that it's comfortable to you. Even cheap sofas cost a lot of money and frequently end up in landfill so it is really worth spending time to get your decision right. Ideally, your sofa will serve you for a long time before being passed on to future generations, so always buy the best that you can possibly afford. Good sofas improve with age as the cushions soften with use. Regular plumping of seat and pillow cushions will improve their longevity and we offer a free re-cover service to allow you to further extend the life of your furniture.
Once you've chosen the shapes you like, you'll be ready to think about fabrics.
This information will help ensure that the furniture you select fits in your home. Use this step by step guide for an easy transition to creating a beautifully furnished home.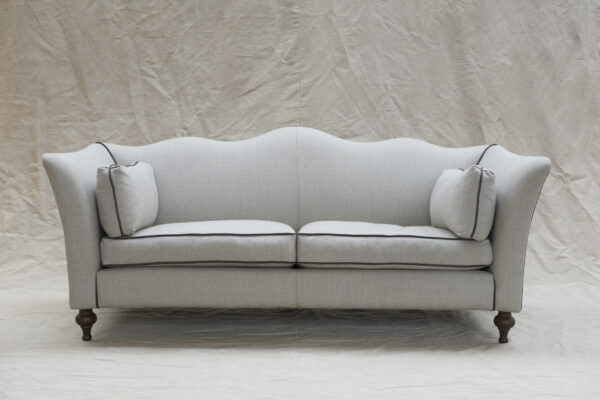 Step One – Take note of the main dimensions
Note the key dimensions of the furniture as follows; width, height, depth and diagonal depth. You will find this information within the Specifications on our website.

Step Two – Plan the space where your new furniture will live
If you know where you want to position your new furniture, check the dimensions of the space and make sure that the item fits into the allocated spot. We recommend that you use a floor plan and/or mask out the width and depth of the item using low-tack decorating tape.
Step Three – Check your access
Bearing in mind that the height dimension of furniture tends to be the smallest and so, therefore, the furniture may need to travel through parts of your home sideways, work out the best route through to the destination. You will need to measure every doorway, hallway, staircase and lift that the furniture will need to pass through. Be sure to measure ceiling heights, lift openings and any wall to wall dimensions where the furniture needs to be turning a corner. Your furniture width and diagonal depth must be less than the width of any doorway, stairway, hall or lift through which it must pass.
Doorways
Stairways
Hallways
Step Four – Preparing for delivery
Scheduling your delivery
When you schedule your delivery, you will be given 6-8 days notice and a time slot once the date has been confirmed. John Sankey ask that you inform us of any special requirements, such as narrow roads and driveways, restricted parking, building access codes, proof of insurance for high rise and condominium buildings, floor levels or lift reservations.
For items being delivered above the first-floor level, please let us know and allow us the time to understand whether the delivery is going to be straightforward or requires specialists and equipment.
What to expect on delivery day
Dependant on the size of your items, there will be one or two delivery professionals on the day of arrival. We can offer white-glove service if requested, our professionals will deliver and unpack the items, inspect the furniture, assemble and take the packaging away for recycling.
We ask that you also inspect the items before our team leaves your property. Note that our delivery professionals are not permitted to move furniture currently in your home, nor are they allowed to move or set up electrical equipment or remove doors from hinges. Before our delivery team arrives, please prepare your home:
Clear a path, moving any furniture or artwork that's in the way
Secure low-hanging light fixtures
Set rugs in place
Confine pets to another room
It is your responsibility to ensure that all furniture items will fit through any access points such as doorways, stairways, hallways, lifts and around corners into the de­sired location.
A guide to choosing fabric and to choosing your upholstery.
The colours, patterns and textures you choose for your room can tell a story of understated luxury, playful exuberance, a formal or relaxed approach and all stages in between. Fabrics create connections between the elements of a room, they don't have to match so you get to decide how loose or tight you like your associations to be. A mixture of textures in similar tones generally looks more formal, urban and calming, with further interest added by introducing leather or an accent colour that pulls out a tone from a treasured painting, rug, vase etc. Whilst a more relaxed mixed and mismatched assemblage of colour and pattern can evoke the comfortable, generational layering of the classic English country home.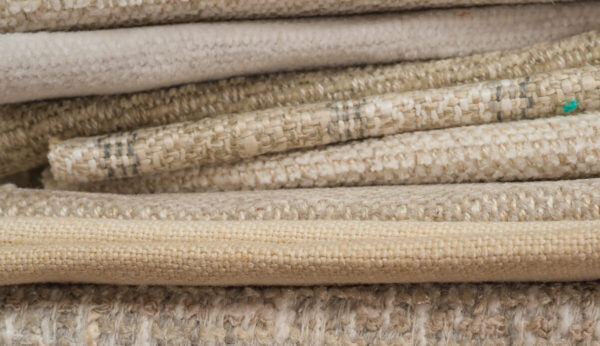 The way our fabric range is put together allows you to build your scheme and layer it to fit your story. Let practicality play its part; think about how you live and who uses the furniture (dogs, cats, red wine spillers). Some of our fabrics have a stain repellent finish which will go some way to keeping things looking good. Pieces in high-traffic areas such as family or living rooms will need durable fabrics, while furniture treated to less wear and tear, such as a bedroom chair, can sport any type of textile. Fabrics are graded with a 'rub count', technically known as a Martindale Test. The higher the number the more durable the fabric and we have included this information in our fabric specifications. As a rule, 25,000 rubs is considered to be adequate for general domestic usage and all of our fabrics far exceed this.
Your budget will obviously guide you too and we have ensured that we offer fabrics to cover a range of options without compromising on performance, starting with Hudson and Rembrandt which are both soft and durable.
Think about it as layering and for example; select your base texture (Rembrandt for a relaxed feel, a more structured texture such as Tarn for a polished feel) and add to it a piece in Gio for urbane sophistication, and a scatter in Selena for some tactile luxury.
How to Care for Your Leather Furniture

A piece of leather furniture only becomes more beautiful with age and the leather you choose determines just how beautiful it will become.
Leather is a natural product with its own individual characteristics and is particularly suitable for upholstery as it offers durability alongside its distinctive style and comfort. The smell of leather is synonymous with its quality and its welcoming aroma is rich, nostalgic and warm.
The properties of leather change over time, adding to its inherently unique characteristics and making it a real investment. Today, leather is more soft and supple than ever before and this allows the leather to mould to the human body, enhancing its luxury feel.
The raw material used for our upholstery comes from cowhides and the natural variations on each hide partly depend on which part of the cow the hide covered. Being a natural product, leather the shows the marks from its years of growth. These come in the form of stretchmarks or growth marks, healed scars, insect bites, scratches and so on. The wrinkles and creases which develop during use are natural and enhance the unique and inviting properties of the product.
It is important to select the leather most suitable according to your lifestyle. Although leather is a natural product, it is available in different qualities and finishes, and the raw hide, once treated can vary in thickness, size, elasticity and colour.
For aesthetic and protective reasons, the hides are treated using one of three basic methods, known generically as aniline, semi-aniline and pigmented.
The hides that are most free of surface markings, are generally used in "aniline" ranges. Those with a greater degree of markings are generally used in either "semi-aniline" or "pigmented" leathers.
Aniline leather is produced by immersing the tanned hide in a bath of dye, which penetrates through the leather. The surface or grain is normally left in its natural state, although sometimes it may be given a light surface finish to add character (such as wax, oil or a light polishing). This provides only slight protection, therefore aniline leather may not be the preferred choice for heavy domestic use. Aniline leathers are renowned for their maturing properties and the way they mellow, developing a rich patina during life and use; much like a favourite pair of brogues.
Semi-aniline leathers are lightly finished and incorporate a small amount of pigment. This provides a degree of coverage, protection and soil resistance.
Pigmented leathers have a protective, pigmented, polymer finish applied. This gives increased durability and better resistance to soiling and spillages and improves light fastness. Sometimes an embossed pattern can be applied to the finished layer to provide a surface grain effect. This type of finish will conceal most natural surface imperfections, therefore giving a more consistent look. Pigmented leathers are less absorbent and more resistant to marking than aniline leathers, therefore better suited to heavier domestic use. Full grain pigmented leathers have the original surface left intact prior to finishing. Corrected grain pigmented leathers have an abraded surface to remove blemishes prior to finishing.
It is common practice for manufacturers of leather to use a breather fabric on the reverse of cushions to enable the air to escape once sat upon. This lessens the whoopee cushion effect that otherwise occurs.
Leather Care
As with all materials, regular care of your leather will ensure that the appearance and durability is prolonged, although generally leather does require less maintenance and cleaning than fabric. Please follow these care guidelines to help prolong the life of your leather upholstery. These guidelines cover each different leather finish.
In general, please protect all leathers from prolonged exposure to direct sunlight, excessive heat from radiators and fires, sharp objects such as shoe buckles, pet claws and chemicals such as spot cleaners or detergents, not specifically intended for use on upholstery leather.
Numerous consumer complaints with upholstery leather arise through well-intentioned but nevertheless improper or over enthusiastic cleaning.
Care guidelines for aniline leathers
Care should be taken not to mark or spill anything on aniline leathers since stain removal will be extremely difficult, if not impossible. To minimise staining, lift off any excess contaminant as soon as possible using a paper towel or dry cloth.
General maintenance can be carried out on an aniline leathers by gently wiping over the surface with a cloth dampened in clean water. Care must be taken not to over wet or rub the leather surface. Please contact your local leather upholstery specialist to guide you to the most suitable cleaning product.
Care guidelines for pigmented and semi-aniline leathers
Regularly vacuum using your soft brush attachment and then take a soft cloth and ring it out in a water and soap solution – mild soap, not detergent. Wipe the leather using a circular motion, taking care not to soak the leather. Repeat using clean water.
There are numerous proprietary leather cleaners currently available, however it is essential to test any products on a hidden area prior to treating a larger area.
Do clean your leather upholstery regularly.
Do not feed the leather in any way. The use of spray polishes, saddle soaps, waxes and so-called hide foods may well create a sticky surface, attracting dirt and in time causing irreversible damage.
Always contact a reputable leather specialist before cleaning your leather upholstery.
The material and advice given here is for general information purposes only. We make no representations or warranties of any kind, express or otherwise, or implied, about the completeness, accuracy, reliability, and suitability and any reliance you place on such guidance is therefore strictly at your own risk. Finally, because of the nature of the materials involved, you should take great care not to spoil or damage your leather, and when cleaning, always test first and if in doubt consult a leather specialist.
Thank you for purchasing a piece of John Sankey furniture. All our furniture is handmade in Britain by craftsmen at our own workshop in Derbyshire.
Please take time to read the following instructions to ensure that your furniture is kept in the best possible condition. With the correct care it will give you many years of comfort.
Enjoy!
Cushions
To keep your cushions in good condition and prolong their lifetime, plump them regularly. Vigorously plump and pat your cushions into shape if they contain fibre or feather. Cushions with foam content will lose some of their hardness within a few weeks of wear. Regularly turning reversible cushions and changing their position helps maintain shape and prolong life.
If the cushions are not turned and plumped regularly they may begin to look out of shape. If this happens unzip the cover, reposition the interior and follow the steps above.
Cushions will need replacing from time to time over the years depending on how you use them. Please contact us if you require any serviceable parts.
Cover
Avoid direct sunlight, sharp objects and spillages. Sunlight can cause the covers to fade, discolour and rot. Protect your fabric by drawing curtains or blinds. Similarly, direct heat from radiators, heaters or fires can cause these effects; reposition your furniture away from any of these possible sources. All fabrics can be snagged or scratched. Cat's claws, jewellery, buckles, rivets etc. are the most common causes. If a snag appears tuck it in but do not pull it or cut it.
Velvets
Avoid getting velvets wet as it can permanently damage the appearance of the pile and any finish that the velvet may have.
Regular cleaning
Vacuum clean your upholstery at least once a week; dust removal may be improved by pre-brushing with a soft brush. Accumulated dirt will accelerate wear and dull colours.
Your furniture has been hand-made and engineered to last for years, treating it carefully will help prolong its life and look. Do not allow the furniture to be used as a trampoline, climbing frame or any other such use. Likewise do not sit on the arm or edge of the cushions, as they will wear prematurely.
Stains & Spills
With spillages, act quickly. Absorb the spillage with dry white kitchen paper or a dry white cloth. Do not rub or soak the fabric or allow the stain to set. Do not use proprietary cleaners or any other household cleaners. Contact professional upholstery cleaner.
Professional upholstery cleaning
Sooner or later your upholstery may require cleaning. At that time, have it cleaned by a bona fide upholstery-cleaning specialist. We would advise that you do not attempt this yourself as the cleaning materials and methods are specific to the fabric type. The weaving, dyeing and finishing of upholstery fabrics is complex and technically particular to the type of fabric.
A recommended upholstery cleaner is: Service Master ltd 0800 626 303.
Zips
The zips on your upholstery and cushions are not necessarily there so the covers can be removed, but as a method of effectively fitting interiors during manufacture. Your upholstery has been made in accordance with the relevant fire retardancy legislations and this might mean that the cover has a back-coating treatment that may be removed by the improper dry-cleaning process.
Leather
No two pieces of leather are exactly the same. Beautiful colour variations and distinctive natural markings make leather furniture uniquely your own. Colour variation is a natural occurrence in top grain leathers. Each piece of leather has a different unique structure; therefore, it will absorb dye in varying amounts, causing some areas to be darker or lighter than others. Each piece of leather also contains markings known as "nature's signatures". Healed scars, scratches, insect bites and wrinkles provide yet another dimension of individuality to your leather furniture. To establish which type of leather is right for you and how to care for it, please refer to our leather care guide.
Show wood
Most modern furniture is finished with a hard-wearing lacquer to give protection. All timbers can alter slightly when exposed to light; some tend to darken and some may lighten and these changes should be expected.
Avoid extreme changes in room humidity, and never place a piece of furniture directly next to a heat source or in direct sun light. For best cleaning results first use a soft, clean damp cloth then buff with a soft, clean dry cloth. Never use polishes, solvents or abrasive cleaners as these can damage the lacquer.
Remove any spillages immediately.
General
Every effort is made to represent colours accurately in photography, CGI and samples. However due to the natural materials used on our products and the batch nature of fabric manufacture, shade variations can occur. We have a policy of continual product development and improvement so therefore reserve the right to make any changes to our materials and finishes.
Troubleshooting
Should you have a problem, report it to your dealer immediately. Please have available your sales invoice and the unique identity number which can be found on the underside of your upholstery product. Describe the problem as accurately as possible. Your dealer will help you and if necessary, arrange for your furniture to be inspected so that the appropriate course of action can be agreed.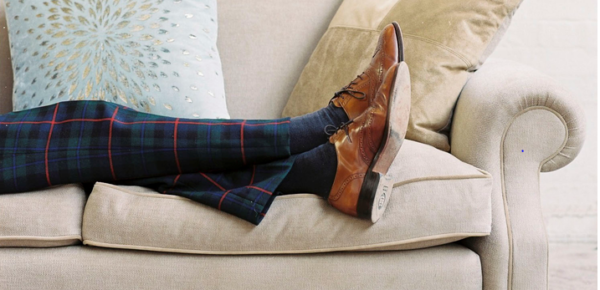 A Guide to Comfort.
Comfort is a huge factor when choosing furniture, but how do we create comfort in the first place? And then describe what is essentially a physically immersive experience?
There are arguably few pieces of furniture more important than your sofas and chairs. As comfort is so subjective and depends on height, weight and personal preference, we offer a wide range of sitting experiences, so it's best that you sit in our furniture before buying.
The quality of materials and craftsmanship used, go hand in hand in delivering comfort and longevity.
The Key Ingredients.
At John Sankey, we strive to achieve a balance between support and softness, whilst also and effortlessly, looking tantalisingly beautiful… here's how we do it.
The Frame.
The frame is the essential foundation – if you will; the bones of the piece. Frames set out the overall ergonomic design and support of all the springing and softening elements. A well-constructed frame supports the back, facilitates the comfort derived from the padding layers and improves the longevity of everything that is laid on top. Many of our frames are enveloping and curvilinear, which can really enhance the overall finished comfort. All of our frames are made on site in our Derbyshire workshop from sustainably sourced hardwoods. They are double or triple dowelled, glued and screwed and are absolutely rock steady and fit to support the layers that follow.
The Springs.
The springs work to deliver a combination of support and resistance, they let you in to the furniture and also tell your body when to stop sinking. They are the ligaments and tendons of the piece and at John Sankey we use one or a combination of the following:
Coil sprung unit: Our coil springs are arranged within metal frames to create units that are engineered to fit within the seating area of the piece. They allow for a degree of sinking in and bounciness and when used in conjunction with a soft foam and feather seat cushion, we would describe them as yielding.
The yielding of the sit is enhanced on a John Sankey piece by seat interiors that use a soft foam and feather combination to create the ultimate casual, relaxed experience. Where we use coil springs underneath a fixed or buttoned seat, a lovely buoyant experience is enjoyed.
Serpentine springs: These springs are made up of heavy-guage metal wires that are fashioned into wavey zig-zags and tensioned by affixing to strengthened rails at the front and back of the seat. They tend to give a firmer support and are useful when creating a shape with a light feel and longer legs, when used with our foam/feather interiors they can also be called soft and supportive.
High Performance Elasticated Webbing: Elastic rubber is encased with coiling, super strong polyester fibres to create stretchable, robust webbing. The webs are interlaced to create a strong, flat surface that is relatively firm when compared to coil or serpentine springs, and for this reason, we generally reserve this for the tops of our foot stools.
The Padding.
Now we know that we have a sturdy frame and spring construction (that comes with a Lifetime Guarantee), we can move on to another important part of the finished piece… are we stretching the analogy too far if we say that this part is like muscle? The layers of foam that we use combine high resilience with softness to ensure that the musculo-skeletal performance of the shape will last for years to come. When the padding is quilted and buttoned, extra sumptuousness is achieved… especially when laid over curving, enveloping lines.
The Seat Cushion Filling.
The seat cushions enhance the function of the springs underneath, making the shape look inviting with their volume and softness… they are the all-important sub cutaneous/ fat layer.
We like them to be soft and supportive and to recover their shape when released from the pressure of our bodies. For this reason, we use high density foam with feather wraps as we feel that this combination delivers the softness with recovery that most people are looking for. If you need something different to this, we can also offer a hypoallergenic fibre option.
A Note on Seat Depth.
The optimum seat depth depends on your proportions and preference.
For example, a shallow seat can help you to sit upright with your feet flat on the floor, while a deep seat might cause your feet to dangle above the floor. A deep seat is preferable for the person who enjoys a laid back, slouchy or curled up position.
To enable you to understand the proportions of each of our pieces, we have included both seat height and seat depth within the dimensions on our product specifications. If you have specific requirements, it is worth noting that all our pieces are made to order and we can custom build a sofa to your own measurements. Contact us on sales@johnsankey.co.uk if you require help with this.
A Note on Back Height.
Low-back models tend to look sleek and modern and because they are combined with deeper seats, encourage a laid back, slouchy sit and really suit open plan spaces, where they don't overly block or dominate the view. High-back sofas tend to look more formal and can offer support to the back, neck and head – especially when combined with a shallow seat. High backs are better suited to those of us hankering after extra support and also in rooms with high ceilings. The angle of the back plays a part here too; on our Tolstoy for instance, the back is relatively reclined, which with the coil sprung seat unit, allows the sitter to sink in and relax. Holkham is also high backed but the sitter is held and supported by contoured quilting and buttoning, which fills the lower back and meets the head.
Putting the Cherries on Top.
Pillows: adding pillows allows you to position yourself, creating your own personal nest that gives you extra support exactly where you need it.
Ottomans and footstools: Places to rest your feet or pop a tray are essential in a comfortable home. Our extensive range of ottomans/benches/foot stools create a central point of interest and can be beautifully co-ordinated to unify your scheme, we like to think of them as the soft alternative to coffee tables.
Talk To Us
Our friendly team our always happy to help.
Come visit our showroom
John Sankey, Milner Road, Long Eaton, Derbyshire, NG10 1LB